About Us
---

Liaoning Zhongke Biological Engineering Co., Ltd.
Liaoning Zhongke Biological Engineering Co., Ltd. was established in May 2009, with a registered capital of 13.3 million yuan (RMB), covering an area of 30,000 square meters and a total construction area of 21,000 square meters. It is specialized in pesticide degradation enzyme preparations, polyurethane A high-tech enterprise in the research and development, production and sales of acid fertilizer synergists and food additives. The company is located in the national-level Liaoning (Benxi) biomedicine industry base, and is adjacent to the Shendan Expressway, Shendan Railway, 304 National Highway, and Shenben Industrial Avenue. According to Shenyang, it is 40 kilometers away from Benxi, and it is easily accessible and accessible.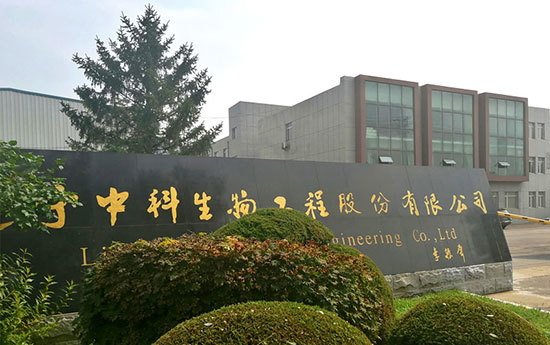 The company has more than 60 employees, including 40 with college education or above, including 2 doctors and 5 masters; 4 have senior technical titles (researchers), and can independently carry out related professional and technical research work. The company takes the Shenyang Institute of Applied Ecology, the Chinese Academy of Sciences as the technical support unit, and has concentrated a group of scientific research forces with a solid theoretical foundation and rich practical experience, and has the comprehensive analysis and testing instruments and equipment required to carry out microbial fermentation experiments. Research and development of various products related to microbial fermentation and bioengineering technology. Since its establishment, the company has successively undertaken a number of provincial and ministerial scientific research projects; it is now the "organic phosphorus pesticide degradation enzyme fermentation and purification engineering research center" in Liaoning Province; the company has 6 authorized invention patents; The efficacy and pesticide degrading enzyme preparation projects have successively won the first and third prizes of the scientific and technological progress of Benxi City, and their products have been awarded the title of "Specialized and New" product (technology) by SMEs in Liaoning Province. On March 1, 2018, the company was successfully listed on the national SME stock transfer system.
The company has complete production equipment for pesticide degrading enzymes, polyamine fertilizer synergists, and food additives. The Pesticide Degrading Enzyme Project has developed products such as "Bie Dun R" series of pesticide cleaning agents for fruit and vegetable residues, contaminated soil repair agents, and dishwashing detergents, which have been removed from pesticide residues. Promotion; Polyurethane Fertilizer Additive Project, a fertilizer synergist "Fertilizer Conservation R" with functions of water retention and drought resistance, promoting nutrient absorption, and prolonging fertilizer effect, has been produced and applied by nearly 20 chemical fertilizer manufacturers in China; food additive projects The self-developed "Zhongke Xianyuan" multifunctional and multi-class food additives have been widely used in food preservation, flavoring, thickening and other fields in Northeast and Central Plains.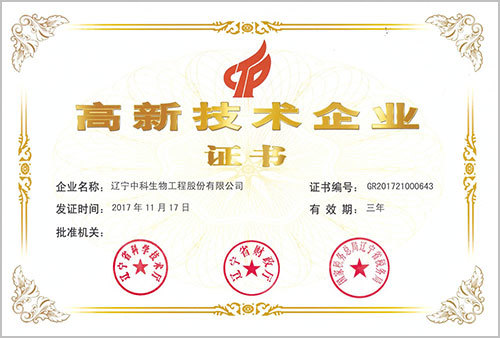 Liaoning Zhongke Biological Engineering Co., Ltd. adheres to the business philosophy of "integrity, pragmatism, innovation, and competition" , and occupies the market with advanced technology and products. It is committed to improving food safety, protecting the environment, and promoting industry development.